Cryptojacking scripts allow you to quickly install a miner on your website.
Coinhive's set of AuthedMine scripts is the only solution I can recommend. The reason is the miner will never start without getting explicit consent from the page visitor. 
AuthedMine script
Below is an example of a cryptojacking script that's currently running on this page:
What is the code doing?
Line 1 is including a JavaScript cryptomining library from Coinhive.
Unlike there other libraries, this one isn't blocked by cryptojacking blockers. Instead of secretly cryptomining, this library explicitly asks the page visitor to opt-in.
Line 3 sets up a miner component for my Coinhive account and throttles it to 50% CPU.
Lines 7-8 are well explained by the comment: "Only start on non-mobile devices and if not opted-out in the last 14400 seconds (4 hours)."
Before the miner starts, this cryptojacking script shows a JavaScript opt-in overlay: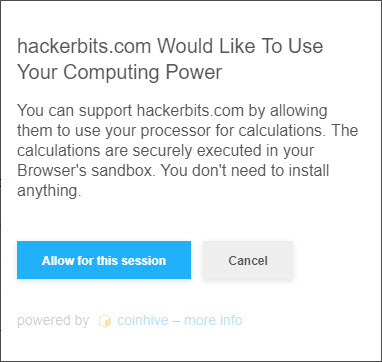 The miner will not start without the page visitor consenting to their computer being used to mine.